Sarah & Andy's Wedding August 2023
We had the best day ever – everything was perfect and we can't thank you enough. The village hall was such a wonderful venue, exactly what we needed and we haven't stopped talking about it since (and neither have our guests!). We really do feel lucky to have been married in Hartington, and we can't wait to visit again.
Louise & Peter's Wedding June 2023
Where do I start? We recently had our wedding reception at Hartington Village Hall. It was the perfect fit for the the traditional folky vibe we were going for and as soon as we stepped through the door we fell in love with the place. We were offered the hall for the entire weekend at a very reasonable price. Nothing was too much trouble for Liz who went out of her way to help us put on our dream wedding, even arranging an outside space to allow morris dancers to perform. What an incredible woman she is! We were allowed to completely transform the venue and we were even given early access so we could dress the venue to our requirements. The village is absolutely stunning with loads of accommodation for guests, so if you're look for an event in a beautiful setting, look no further. It truly was the perfect weekend!
Fran & Ronan's Wedding October 2021
We are thrilled that we chose Hartington village hall for our wedding party. Liz was a fantastic help from the start of the process, we felt that she could not have been more accommodating and she was willing to step in to make sure things happened the way we imagined! We were really pleased with how the hall looked set up, both as a dining room for our main meal, and then as a dance floor and bar for the evening party. Harold, Jennifer and the team provided a brilliant bar based on our requests and kept all our guests happy with a great selection of beers, wines and spirits.
So many of our guests commented on the beautiful location of the hall. The picturesque countryside and charming village with a handful of shops and pubs, made for a lovely weekend away for people!
We had booked the Hartington Hall YHA – 200m from the village hall, most of our guests chose to stay there and we loved being able to head back from the party together to our accommodation.
We wouldn't hesitate to recommend the village hall to anyone planning a party!
Thanks again, and hope to see you soon!
Fran and Ronan 🙂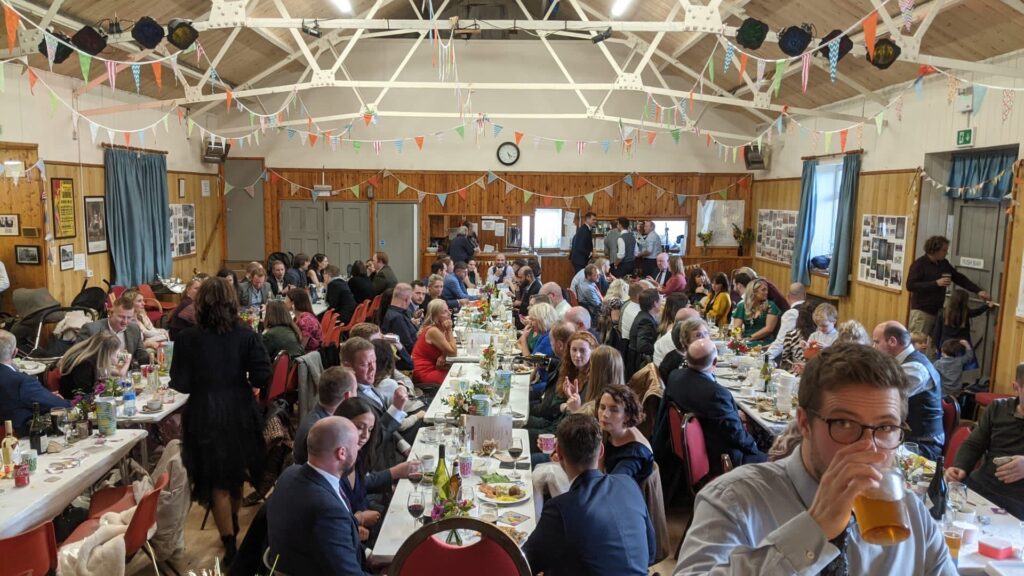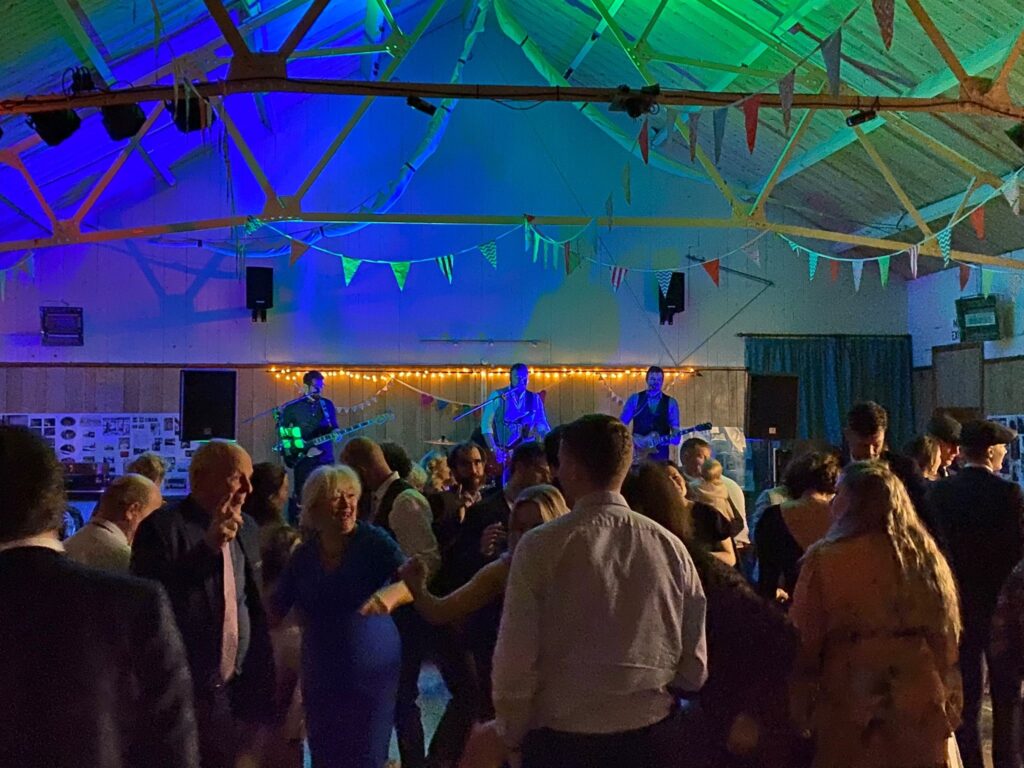 Wedding Feedback, August 2017:
Karen Stanford, Mother to the bride:
What a team! – August saw The Village Hall at the heart of the wedding celebrations for Rebecca and Sean. The young couple had fallen in love with the location and had the vision to create a stylish and extremely personal venue for their friends and family from far and near –but it was only made a reality through a true team effort. From the welcome they received on their initial visit, the newly-weds realised that this was more than a Village Hall: it is indeed a focus for community. Nothing was too much trouble for the caretakers and key holders on their repeated visits over the months. Perhaps only the original 1920's architects would have measurements of the iron roof girders equally precise! These were needed to work out a method of securely suspending a forest of shimmering branches, (re-cycled courtesy of John Lewis). Aided by a band of helpers, the core wedding party arrived on the day before the Big Day to lay tables with grass and glasses and origami birds to colourfully announce each brightly individually tasselled place setting. No expensive external wedding planners required for this magical effect of outdoors indoors: just a little imagination and a lot of collaboration! Some of this had been a secret surprise which was only made possible by the Village Hall Committee's hard, co-ordinated seamlessly by Liz Broomhead. Not only was the Village Hall scrupulously clean and tidy, key areas had thoughtfully been given a lick of paint to ensure the magnificent hanging-baskets, created by Lesley Birch, were set off to their best effect for the couple's entrance. Sunflowers, which had been sown months in advance by the Village School's Gardening Club, lined up along the outside wall to smile a greeting to guests as they entered. Thanks to the Hall's neighbours, who agreed to the celebrations being extended into the shared green space, planters, some again provided by the school, produced an instant garden setting for the outdoor gazebo where revellers were able to consume the Groom's special brewed 'Happy Ever After' beverage. The sweet-peas picked from a local garden, which danced on the window sills, characterised the kindness that was extended to the wedding party during that very happy mid-August weekend.
School Group Feedback, February 2018:
Ian Kell, organiser
"We are from a school in County Durham, (the Academy at Shotton Hall) and we hosted a multi national school event consisting of 68 students from 10 countries and 3 continents. During the week we stayed at Hartington Hall Youth Hostel, but we planned a number of events which could not be staged in the hostel, In stepped Hartington village Hall who provided a superb venue for our planetarium show and our last night cealidh. As the organiser of the event I can not speak highly enough of either the the help offered nor the warmth of the welcome given by all connected with the Village Hall. I know the students will have fond memories of this week long after they return home."

More information can be found here:

Inaugural Hartington Social Group Meeting 27th February 2018

Rachel Metcalfe : The Farming Life Centre, Bakewell

Thank you Liz for all the hard work you put in to making the first meeting a successful one.

Wedding reception feedback

Rebecca & Sean Harrington Thorley

We have just returned from honeymoon and are working on a post wedding come down!!!! Lol**we are still so excited! Haha** We would like to thank you and the whole village for everything you did for us on, and in the run up, to the big day!
We got hitched without a hitch and the day was better than we could have imagined.-THANK YOU!!!!!
Wedd